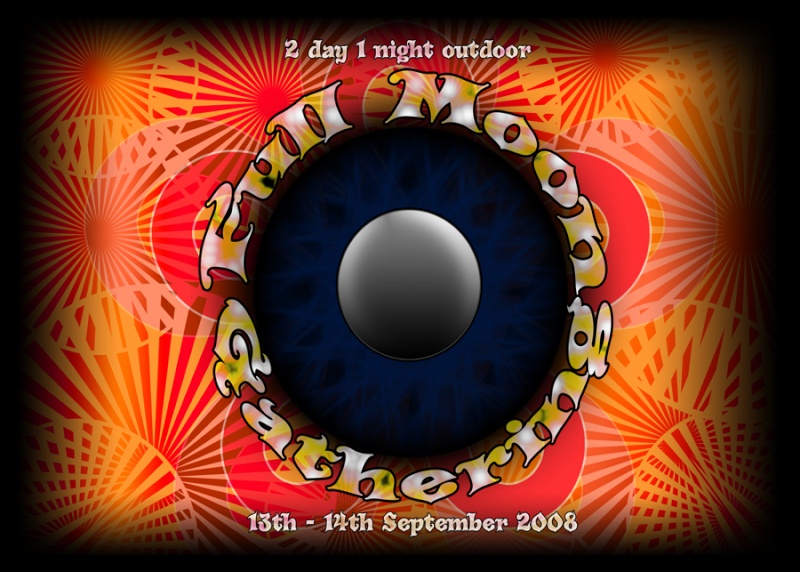 Hi all, come Join us for a Full moon tribal gathering and bring your friends and toys. Join in on art spaces, great food, and let our sonic sourcerers take you imagination, body and soul for a wild ride on the dance floor !
The full moon is a time of the brightest light in the middle of the night.
Lucid Realms presents another full moon party with tons of fun to be had by all.
Sun Control Species (Iboga - Australia) Live
"Suncontrolspecies is Drew Davidson from Melbourne in Australia. He has through the recent years gained a massive reputation, in Australia and around the world, as one of the leading in the field of progressive trance music. With a tempo range in the low to mid thirties, wonderful groove patterns combined with intelligent sound structures and heartfelt melodies, SCS was bound to be picked up by Iboga Records, where his album was released during 2007 to massive sales and critical acclaim. There is no doubt his recorded sound and live sets are making a big impact on the modern day global progressive scene."
Hedonix (E.P.P Records/Cosmic Conspiracy Records Sydney) Live
Hedonix are Rob and Steve, two discordian popes hailing from Sydney, Australia. They have been producing music together since 2001 and have had their main releases on Electric Power Pole Records (Australia) and Cosmic Conspiracy Records (New Zealand). The music which Hedonix produce is a direct reflection on their personalities in that it is funky, quirky and fun. They tend not to limit themselves to any particular genre of psychedelic trance but set out to combine the best elements of all the styles and other electronic music genres while making sure to keep each track groovy, twisted and full of surpises.
DHARMA KAYA (Blitz Studios - Oz/Russia) DJ set
Dharma Kaya is Alexander Goborov, one of the founders of Blitz Studios andthe label's only official DJ. Born in St-Petersburg Russia in 1983, Alexleft his home country in his early teens, and he is now based inAustralia. After being into heavy drum'n'bass and experimental metal formost of his years spent in Europe and the United States, Alex seriouslygot into psychedelic trance at the age of 18 while in Sydney. A year laterhe met Allan 'Justultra' and whilst pursuing their vision of modernpsytrance Alex decided to get his first pair of decks. It all went fromthere…
Kohra (Soultribe Records (Germany) / Shivlink Records (India))
Kohra, is one of the only progressive trance acts that hails from India.
He has played at almost all major dance festival in India, and also many of them overseas. His style is a constantly evolving blend between psychedelic progressive and deep tribal tech or minimal. Being a percussionist for over 4 years he blends together grooves off all kinds and binds them together, and layering them with traditional Indian elements he creates complex atmospherics. He has worked on various productions and compilations with some of the most renowned progressive act's such as Antix, Midimal, Elastic, Jey & Ex, Trancemission, Fat Data, Nyquist, Odesio & Gandulk to name just a few.
Second Sight live
"Second Sight a.k.a. Brown started producing psychedelic beats in 2004, having completed an Audio Production and Sound Engeneering course at SAE. His sound is deep, dark and smooth and meticulously crafted, showing his classical training. His influences include Freq, Antix, Sun Control Species and the Iboga sound in general, and in his live performances he strives to blend that progressive sound with the darker side of psychedelic trance. He has become a regular act with lucid realms and Mutagen events and many other psy gatherings in Melbourne, and, with his upcoming move to Byron Bay and first gig there at Green and Groovy in August, is sure to become a mainstay there too.
Player 1
Player One/Tilt Axis is 24yr old Dwayne Banham,now based in melbourne and originally based in cairns,has been delivering quality psytrance to the australian dancefloors for 6yrs,playing amongst many artists over the years, including Freakulizer , E-Jekt , U-Recken , Nitro , Hallucionagen , Entropy , Eduardo , Triptich , Antix , Infected Mushroom , Beat Bizzare , and stacks more, and in 2006 was welcomed into the Dooflex Records family,a side label of Doof Records based in Israel,highliting the more grey area of morning full-on/progressive,is sure to keep you stuck firm to the dancefloor.
THE CHOJIN (Green Magik Records/Comawake) LIVE
The Chojin is 31yr old Pierre Meneaud,now based in Melbourne and originally from India,has been dropkicking dark psytrance to the public for 8 yrs,playing alongside a few dark artists over the years, including Teo (DiscoValley Records) , Dark Nebula,Mononoke & The wolves, ShivaMoon and Babacool and in 2008 was iniated into the Greenmagik Records family,a side label of BlackMagik Records based in The U.S.,addressing the more pagan,twisted, dark area of Night-time Psy-buckle up...coz kansas is going bye-bye
Fractal Elf
This Guy
Xtain
NQR
Let Lentil as anything tantilize your taste buds, a refreshing swimming hole to invigorate your senses, plenty of shade and great visuals that will entice your creative juices.
There will be roaming performances, workshops, spontaneous acts, art spaces and bring instruments to make and be a part of a jamming space.
Fire liquid will be available for fire twirlers so please feel free to bring your sticks and extra fuel maybe.
Tickets will be available soon at $25 or $40 on the gate.
There is no door list and ticket info will be available soon.
For more information or to contact us please visit
www.ozfestivals.com.
Please contact us if you would like to be involved and be part of the full moon journey.
Super Moderator





Posts

: 13


Join date

: 2008-08-24


Age

: 34


Location

: Melbourne



This actually looks like it could be really good! But I think I'm already away that weekend

Do they hold these regularly?

Newbie




Posts

: 5


Join date

: 2008-08-25





Similar topics
---
Permissions in this forum:
You
cannot
reply to topics in this forum